MOUNTAIN GATOR KENNELS
Home of the Working Bulldog. Walk the Walk.

---
NEWS FLASH! August 21,2000 - After 20 years of successfully competing in IWPA and ADBA weightpull events with American Pit Bull Terriers, MGK is proud to announce that it has embarked on a breeding program for American Pit Bull Terriers. Click the following link MGK APBT to see the MGK APBT pages which are under construction. Pictures and additional information to follow!
---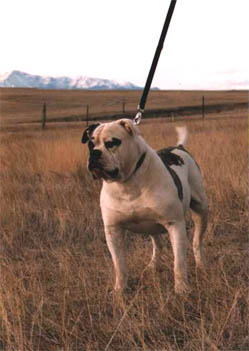 MGK BamBam MGK Gator Red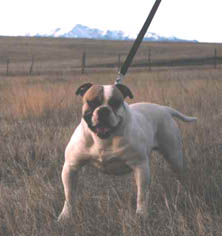 MGK Brahma

---
MGK has AWESOME Bulldogs and MGK's record in the IWPA - International Weight Pulling Association - and status as source of quality brood stock for other breeders speaks for itself. Some of the dogs produced by MGK are: dogs from the MGK Gator Red x MGK She's a Doozey breeding (Action Jackson, Proud Mary, Slammer, Bull, and Bushwhacker); Damien; Pete; Stumpy; Tyson; Krunch; Winston; and All That Jazz. If you are interested in buying a MGK bulldog, please call Mark or Lisa Landers at 303-648-9811 (Mountain Standard Time). You will not be disappointed in a MGK dog.
---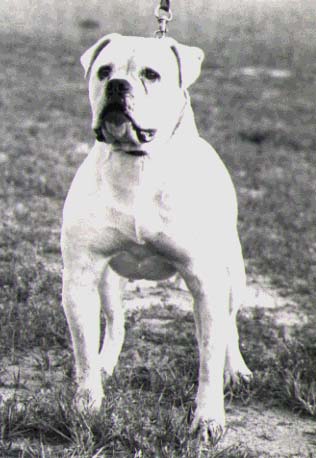 MGK Half Acre

---
In the following pages, you will see some of MGK's American Bulldog foundation stock (APBT pictures to follow!), recent puppies produced, and SOME of the dogs MGK has produced. MOUNTAIN GATOR KENNELS - MARK LANDERS 25650 COUNTY RD 5 ELBERT, CO 80106 TEL: 303-648-9811 (MOUNTAIN STANDARD TIME)
click to see the next MGK page
There have been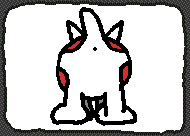 visits to this fire hydrant!
---

COPYRIGHT 1999 MARK LANDERS. ALL RIGHTS RESERVED. NO PART OF THIS WEBSITE MAY BE REPRODUCED OR USED IN ANY FORM OR BY ANY MEANS - GRAPHIC, ELECTRONIC, OR MECHANICAL INCLUDING PHOTOCOPYING, RECORDING, TAPING OR INFORMATION STORAGE AND RETRIEVAL SYSTEMS, OTHER THAN BY REMOTELY BROWSING ON THE WEB SERVER OF ORIGIN FOR THE SOLE USE OF THE SUBSCRIBER.