BUDDIES' BULLIES
(and lesser breeds of dogs - just kidding ;)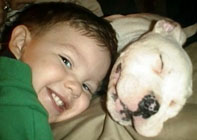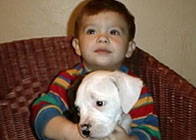 Cameron w/Frederique and Sheena (AB). LOOK AT THOSE MUGS!!!
Are they adorable or what?! Cameron, Frederique and Sheena are under the custody and absolute tyrannical rule of Christina, the webmistress with a whip of American Bulldog Outpost. She has been feeding all three of them a low protein diet trying to control any possible adverse affects of fast growth. From what I hear, she's had successful results. Frederique and Sheena are puppies and, believe it or not, Cameron is 17 years old in the pictures. Christina believes that all three will reach their full size potential upon maturity - 2 years for the ABs and 21 years for Cameron. Christina believes that Cammy's head will still widen a little bit more even after Cameron's 21st birthday. She wants me to be Cammy's agent when he signs with either the NBA or NFL four years from now. When I expressed skepticism, Christina told me not to worry, assured me that Cameron will make up all of his growth in the next four years, and told me to concentrate on getting him a huge signing bonus. Although I understand the low protein diet for Cameron, I still fail to understand why he has not been potty trained. Christina just keeps muttering something about starting with paper training with the puppies and then moving on to being fully house broken by the time Cameron is 21 years old. She says that it's a little slower than other methods but that by the time Cameron is 21, he will be absolutely trustworthy alone in the house. In addition to controlling growth, with the strict low protein diet, Christina has noticed and appreciated a significant decline in gaseous emanations from the rear ends of all three. She heartily recommends such a diet to all mothers and dog owners. With her savings from her grocery bill, Christina is buying her own x-ray machine.
---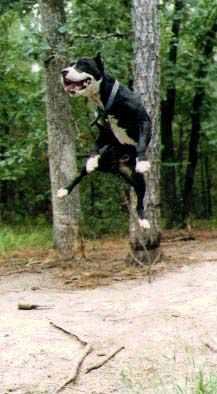 Bullet (APBT)
Bullet belonged to my buddy, Mitch. Heavy Maverick breeding. This bulldog had it all, gameness, hard bite, ability and looks. Unfortunately, he and his momma (a great gyp) were stolen off of Mitch's yard. Here's hoping that those dog thieves don't pass through the goal posts of life after the end of the fourth quarter.
---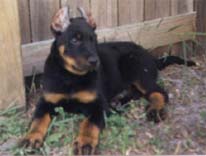 Matejo "Mat" (Beauceron)
Both Kristen and her dogs are in search of a good man with a full bite suit and great ability with a baton. BTW, apparently Kristen is good looking and genetically blessed - just ask all the bikers that constantly try to pick her up and her mechanic that keeps fixing her car....for FREE. Puzzled by all of Kristen's encounters with bikers whose compliments and attention Kristen says she detests, I asked Kristen how she managed to keep running into bikers and Kristen replied that she knows all the places where bikers hang out in Florida, in order to avoid them she says. If you have a full bite suit and a baton (or are willing to get them), live in Florida or are willing to travel, and think you qualify, drop me a note and I'll relay your wishes to Kristen. Please be sure to send me pictures of the bite suit and baton (this is a requirement which Kristen will NOT compromise on). Serious inquiries only! Posers need not apply. There will not necessarily be only one successful applicant.
---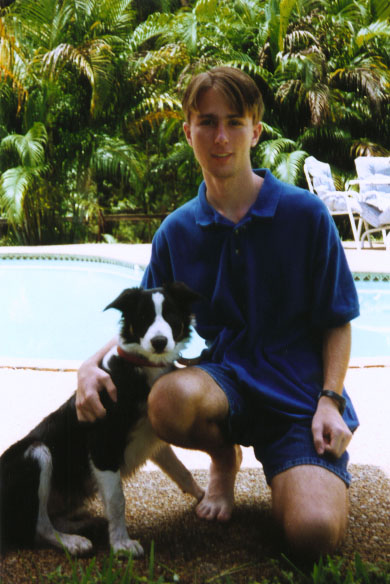 Matt w/Robbie (Border Collie).
ANOTHER sheep herding dog!
Matt took this picture with Robbie before dipping into the pool for his daily practice session for synchronized swimming. Matt aspires to join the U.S. synchronized swim team - he believes that lots of practice and a sex discrimination suit will make his life long dream a reality. He has been begging me on a daily basis to represent him on a pro bono basis (i.e., for FREE). While awaiting the initiation of litigation, Matt practices in the family swimming pool (he refuses to discuss the recent ugly incident at the nearby community swimming pool) and makes sure that he removes all unnecessary body hair. Matt is the center of attention at social functions where he shows everyone his synchronized swimming routine (just the head and arm movements since he is on dry land).
---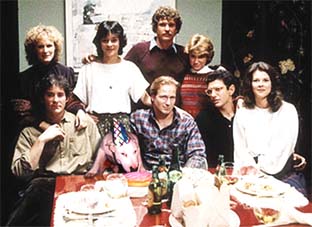 Spud w/the cast of the "Big Chill" during good times.
Pictured above is Spud on the set of a Hollywood movie he was all set to star in until he wouldn't play the well known casting couch game with the producer/director of the film. As Spud says: "I don't care how much he's into doggie style, I'm not into bestiality!" Sick and tired of the Hollywood Babylon scene, this morally correct bully made some small independent films on his own and recently retired to the Australian outbacks. Still bitter about the lost opportunity to become a star in a blockbuster Hollywood film, Spud is currently trying to get financing for a script he wrote as a star vehicle for himself: "Bully Dundee". In the meantime, he is starring in a small Australian movie, "Mad Spud" - about a bully going berserk in the Australian outback trying to get revenge against a gang of psychotic kola bears who urinated on his family while they were picnicking under a eucalyptus tree. Unable to get his own home, Spud is currently residing at the dwelling of Marty and Jane. Spud says the living conditions are great and Marty and Jane are good people other than the fact that Marty wants him to mix it up with an outback wild boar when Jane is not looking and Jane insists that Spud wear a party hat and listen (using his cinema experience) as she recites all the lines from the Star Wars trilogy when it is his birthday. We at American Bulldog Madness have been fortunate enough to get Spud, the movie star, to join forces with Terra, the Hollywood prodigy, and do reviews of movies in a section of this website called: Bullies on Film .
---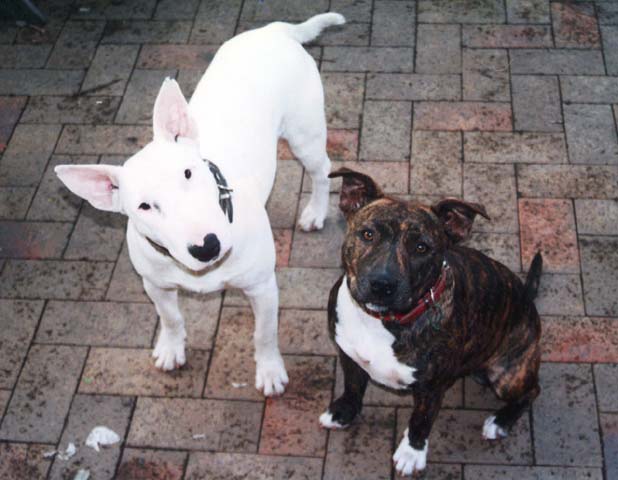 Spud with Babe, the local female he is shacking up with.
Spud thought he was going to get an Elle McPherson or Nicole Kidman when he went to the Land Down Under. Instead, he ended up getting a Kathy Bates. Spud is ashamed to admit it but Babe has sent him to the hospital on numerous occassions. Babe is a real something else that starts with the letter "b". Against all advice, Spud is trapped in a tragic and endless cycle of violence. Spud has started a non-profit organization, Pulverized Unceasingly Shamelessly and SillY (or P.U.S.S.Y): the first step - to admit in front of the rest of the group: "My name is ________, and I get my butt kicked by my woman."
---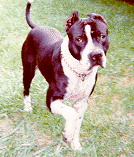 Bonehead (APBT)
Bonehead is an APBT belonging to Todd Fenstermacher. Some of you may be familiar with that name. He wrote a book on APBTs and in the past, judged for the American Bulldog Association. Todd's as honest as the day is long, very knowledgeable about dogs and is HILARIOUS. Anyway, Todd says that Bonehead's left ear leans the way it does because after his ears were clipped, Bonehead always lay around the house on his right side.