NEW WEBSITE COMING! ---
November 21, 2001 - Happy Holidays! In the next few months, I will present a newly designed website with new dogs and perhaps a new URL. Thank you for your visits and kind e-mails.
There have been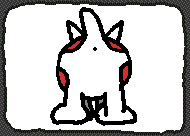 visits to this fire hydrant!
Have an overwhelming urge to link to my site? You can use the following banner made by the gracious Christina of the American Bulldog Outpost.

---

COPYRIGHT 1998 AB MADNESS. ALL RIGHTS RESERVED. NO PART OF THIS WEBSITE MAY BE REPRODUCED OR USED IN ANY FORM OR BY ANY MEANS - GRAPHIC, ELECTRONIC, OR MECHANICAL INCLUDING PHOTOCOPYING, RECORDING, TAPING OR INFORMATION STORAGE AND RETRIEVAL SYSTEMS, OTHER THAN BY REMOTELY BROWSING ON THE WEB SERVER OF ORIGIN FOR THE SOLE USE OF THE SUBSCRIBER.

NOTICE: NO ONE HAS PAID ANY CONSIDERATION WHATSOEVER TO BE FEATURED ON THIS SITE.